About
Enjoy a 20 year materials guarantee from the manufacturer and a 20 year guarantee of a leak free roof from the installer.
About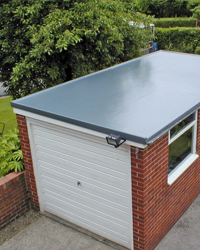 GRP Roofing Solutions uses "Cure It" products to provide a full range of roofing solutions.
With over 25 years experience and full technical backup from our suppliers, GRP Roofing Solutions is the right company to install your new roof.
GRP is formed in situ on the roof deck to create a solid, fully bonded, waterproofing membrane that covers the entire roof without any seams, joints or welds, commonly the weakest point on other roofing systems.
GRP is a hard wearing, structural waterproofing system which cannot be cut with a knife, won't deteriorate under UV light or extreme heat and will tolerate foot traffic.
Further GRP Information
Our roof system is constructed from a strong GRP (Glass Reinforced Polyester) laminate applied in situ over a good quality OSB3 deck. The roof is finished with pre-formed GRP edge trims and a coating of topcoat. Our roof system is available in any colour from the BS4800 range (colour chart available on request.) The most popular colour choice is Graphite Grey (00 A 13.)
Call Now
GRP History
The cured polyester roofing resins used in our GRP laminate do not give off substances that can harm the environment or create any other toxic by-products. The long life span of GRP out performs virtually every other roofing system. This eliminates the environmental cost of producing and installing replacement roofing systems every 5-10 years.
Our roofing system has the potential to outlast the building it is protecting.
Our roofs are constructed from the same material that is used for building boats. This therefore leaves us with the confidence that your new GRP roof will remain maintenance free during your lifetime. Not only will this save you thousands of pounds in new roof coverings, repairs and maintenance, it will also eliminate the possibility of internal water damage which again could cost thousands to repair along with the inconvenience.